Visiting Florence from Perugia
Tuscany is one of the pearls of Italy and place where you can meet tourists from all over the world. I always dreamt of going to this city full of history and atmosphere and therefore yesterday was very exciting for me. I was planning to go to Florence at least one more time as one day in this beautiful place is not enough, but now I know I want to come back again and again. If you decide to spend more time in Florence it will be either because of more museum visits or (if you are not a museum lover) then surely for atmosphere of small coffee shops in piazzas from where you can observe people, historic buildings and enjoy the vibe of the city.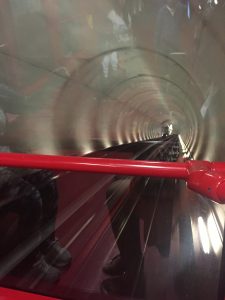 There are number of ways how to get to Florence. Obviously the most of the tourists come by plane, but because I am based in Perugia I considered train or bus. Train is the most comfortable way of travelling around regions in Italy. The return trip from Perugia to Florence costs in a region of 30€. You can purchase the tickets at the station (usually in the automats) or online at www.trenitalia.com. The train prices are definitely lower than in the UK but as I am a student here I was pleased to find out that there is also bus service which is much cheaper. FlixBus is very convenient way of transport around Europe (https://www.flixbus.com). We took a bus from Piazzale Umbria Jazz (the last stop of minimetro, Pian di Massiano, the ticket costs 1.50€ and lasts 70mins and it took 15mins from station Pincetto). The stop for FlixBus is not marked but it is the parking area just outside the station of minimetro so you cannot miss it. The bus was very nice, there were toilets, free wifi, plugs for charging your phone and air condition. The ticket for the bus itself cost between 5-7€ depending on when you book it and the only option of purchasing is online. There is also an option to download their app to your smart phone which will allow you to show the driver your ticket without the need of printing it (the app works also offline). The journey took two hours and must say that it was very comfortable way of travelling, the bus was not busy, there were only about ten people on board and it was on time. The bus took us to Piazzale Montelungo which is just behind the train station in Florence (10 min walk from the centre of the city).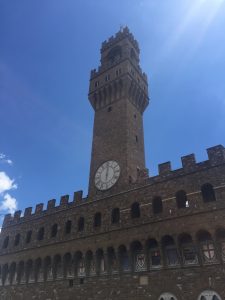 I would advise to everyone to plan your visit in Florence especially when you are interested in some of the museums. Like in Rome, tickets for museums are available online. By buying the tickets online you will avoid queuing for them at the museum which can take two or three hours. We tried to book our tickets for Gallery Uffizi a night before we travelled, but it was too late, all tickets for following five days were sold out. Luckily, we found an agency that was selling the tickets to galleries at the train station (Sightseeing Experience). The tickets were more expensive that on the museum's website, we spent 10€ more. This agency for offering also guided tours around the city.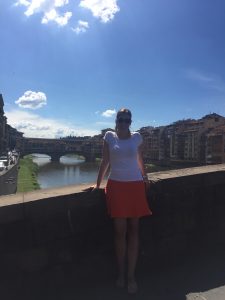 My first stop in Florence was Ponte Vecchio, the old bridge that is famous for its small windows. These windows are windows of shops that are located directly on the bridge where you can buy locally made jewellery. Florence is known for its jewel making history and I must say that if I had a bigger budget I would definitely find something shiny that would make me happy and would also remind me of Florence. On internet you can find information about other jewellery shops where you can buy precious gift if you are on lower budget (this will be my task for next visit in Florence 🙂 ).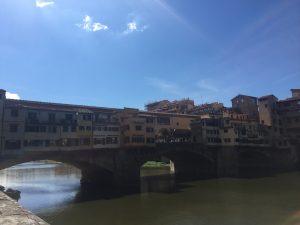 Gallery Uffizi is known as one of the biggest art galleries in the world. Some people call it Louvre of Italy. You can see amazing art work from all famous or less known artist. As I am not an art student and do not have particular interest in art I cannot give you better inside on what to see if you decide to visit this gallery. But I can say that it is an extraordinary feeling to be able to see work of people who lived hundreds years ago. The gallery has also cosy terrace on the top floor where you can order a coffee and enjoy lovely view on Palazzo Vecchio or cupola of the Duomo.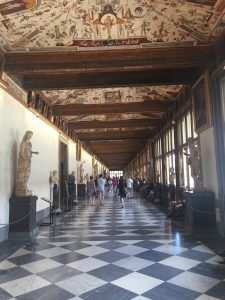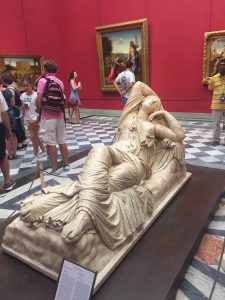 My next steps took me to Piazza Signoria where I met with my very good friend Hanka her boyfriend and their friends. They were staying in Florence for the weekend so we decided to meet in the middle of the historical centre and enjoy some time together. Piazza Signoria is place that seems very posh. You can find Fountain of Neptune in this piazza as well as shiny statue of turtle which as Google tells me is part of Jan Fabre exhibition and is there only temporarirly. Supposedly the turtle was a symbol of Medici Family in connection with the Latin motto "Hurry slowly". More information you can find here: https://mappingcontemporaryflorence.com/2016/04/27/giant-turtle-sculpture-comes-to-florence-with-jan-fabre-exhibit/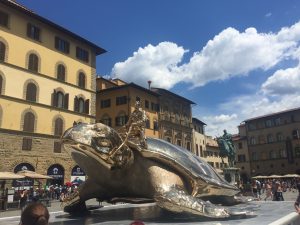 Sighseeing and museum walks are very exhausting and you need a break. Florence is full of different caffetterias and restaurants. But many of us do not enjoy hot touristy spots and therefore if you are looking for a bit calmer atmosphere I would advise you to cross the river Arno and visit some of the places at Piazza Santo Spirito. You can  find number of lovely trattorie and osterie (types of Italian restaurants that are not very posh and fancy but offer good quality food very often run by families for generations) there. One of the top rated pizzerias, Gusta Pizza, is also close. I tried their pizza and would definitely recommend as the pizza was excellent and it costs only about 6€. When it comes to dessert, there is nothing like gelato, it keeps you cool and tastes awesome. The one I tried was Gelateria Santa Trinita which was buonissima (but I still love my favourite gelateria in Perugia, will tell you more about gelato in another post).
Prices in Florence are generally higher than in Perugia, which is also expected as Florence is the biggest city in Tuscany. I paid 5€ for one espresso and small bottle of water, but it was worth it though as I could enjoy lovely view at a busy piazza. Florence is also a great place if you fancy doing some shopping. You can find all famous brands here, but also more affordable shops. The general rule is that further you are from the center the better deal you will get.

Florence is full of tourists but mostly Americans. It seems that Americans love this place, you can hear American English all around you, I would even say that I heard more English than Italian. Owners and staff in shops speak English very well and they also greet customers in English unlike here in Perugia where you are forced to use your Italian skills (which is, of course, a good thing if you are here to study Italian language 🙂 ).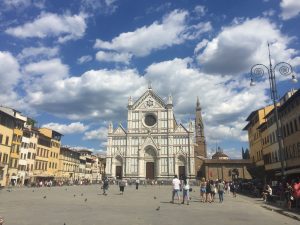 Florence is also a crib of fashion and therefore I decided to visit a museum dedicated to one of my favourite Italian designer, Salvatore Ferragamo. The museum is located at Piazza di Santa Trinita. You need to enter the store to get into the museum. The entrance fee is 6€, which at the time when I was paying it seemed like a good deal. But I must admit that I was very disappointed, only one part of the exhibition (the smaller part) was dedicated to Ferragamo. The rest of it was about Andy Warhol's contribution to the fashion industry and impact of Florentine art on fashion. The whole exhibition was only in four rooms or so. I tried it and I didn't like so I do not need to go again :).