How to study Italian in Perugia
Hi my dear friends,
I have not written anything for a while and I thought i would correct this today. Recently lots of changes happened. The first month of the lessons and of my stay in Italy is over and we are now in August. In July I was enjoying every moment, I went for trips to Asissi, Florence, Perugina attended many concerts of Umbria Jazz (I will write about all of these events in my later posts), made friends and in the end of the month had to say goodbye to many of them as they went home. I also changed my course in July, after one week of B1 I realised that it was not a good level for me and I requested at secretariat to change to B2 together with my friend Juliana, lovely girl from Australia. We first went to the secretariat to ask if the change would be possible and obtained a schedule for the B2 course. Just to give everyone an advice, the secretariat would not encourage you to change courses or do anything unusual, but if you feel you are not in the right group speak to your teacher of Italian language and she or he should be able to advise you whether the change would be beneficial to you. So we came to the secretariat and insisted that we wanted to try B2 and then we would decide. It is important to understand and these levels are not very precise, many times you have people who should be in lower level and if you have group of 30 people it may slow others down. B2 course contains also three hours of Italian culture, but our teacher decided to not do cultural lessons and replaced them with lessons of Italian language. But other than that there is no difference between B1 and B2 courses in terms of structure. The problem that we had in the B2 class was that we were 38 people in the class and therefore having lessons of Italian language (lingua italiana) was very difficult. When it was very hot, having 38 people in one small class room was challenging. And also it was difficult for the teacher to be able to explain everything swiftly to so many people at the same time. What resulted from this was that many people used to ask grammar and lingua questions at conversation classes and then we spent too much time covering the same stuff that we have already covered at lingua lessons.
Conversation lessons (esercitazioni orali) are basically just extension of lingua italiana. I imagined that we would talk about different topics, but instead we did mostly exercises related to the grammar we have covered in lingua classes. Due to this I felt like I was not talking in Italian at all and therefore did not feel any progress.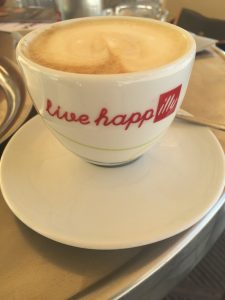 After one month of B2 I decided that I needed to change something otherwise I am just having a long and expensive holiday in Italy. I spoke to Slovak girl Lucia, who was studying in Perugia only for one month and was in the C1 group and she encouraged me to try lessons at this level. First, I was hesitant as I thought it would be too much of a challenge for me, but then I thought I did not have anything to loose, so why not. So again, I went to the secretariat to ask if the change would be possible and what is the procedure. I was greeted with cold NO and the lady told me that I cannot just decide that I want to change, that they have processes in place and only people who pass B2 course and subsequently exam are allowed to proceed to C1. I took no for an answer, but my friends Juliana and Immy and my boyfriend Glyn, who was visiting me at the time, encouraged me to go back in there and insist on the change. I went back in, said that I was not happy with my course and if there is no possibility to change I would consider withdrawing from the university and ask for my money back. Suddenly, the tone has changed, the lady asked me why I was not happy and said that only my current teacher of lingua italiana can confirm that I am capable of changing the level and if she or he does so in written form I can change. She was also so 'kind' to give me the form the teacher is required to sign and did not forget to mention that if I was to leave the university I would get back only 60% of the money I paid. I paid for all three months in advance when I was in London and was planning this trip. The advice I can give now is to always pay only for one month in advance, the university gives you this option also if you sign up for three months. Lots of students do not pay before they come to Perugia, but on the day of their enrollment directly at the university where is also a small bank within the main Palazzo Gallenga.
To make long story short, I am now in C1 group (which is by the way 80 euro more expensive than A and B levels) and I am enjoying myself. The group is much smaller, there are no students that would slow the group down, everyone speaks Italian also between themselves so we are all forced to try to speak also during breaks. C1 and C2 levels also give students opportunity to attend another three selected subjects and once students select their subjects they will be required to also take an exam in them in the end of the course. Also students of B2 level can do one subject. Subjects are very interesting and everyone can pick something that seems appealing to them. Modern history, history of Italian language, theatre, cinema, art, music, business Italian or translations to and from four different languages are all subjects that can bring little bit more cultural aspect to your language studies. These classes are always scheduled for the afternoon, so you do your mandatory lessons in the morning and chosen ones in the afternoons.
Another advantage is that all lessons are in Palazzo Gallenga. When I was booking my accommodation I did not know that there are also two or three other smaller buildings that are used for teaching (for levels A1, A2, B1 and B2) and that these are further away from Palazzo Gallenga. If you think your level would be closer to A or B group, I would recommend to look for accommodation around this area (I attach the map).
https://www.google.sk/maps/place/Palazzina+Prosciutti,+06126+Perugia,+Taliansko/@43.1131012,12.3912052,17z/data=!4m5!3m4!1s0x132ea07e7fc038f9:0x1370ebd26ee036b0!8m2!3d43.1115003!4d12.3949956
Only one thing is strange, which does not bother me, but I think it is important to mention it for those that would like to study in Perugia is that, because I was initially signed in for B2 level (the first B1 week does not count it seems) I cannot take C1 exam in the end of the course, but only B2. There are also some special rules regarding the certificate that the university can issue for you once you pass your exam. I say can, because if you are interested in such certificate you much ask them to issue it for you and additional fee will apply (will find out more once I am closer to that stage).
All this almost made me quit, I did not feel like fighting with people all the time. I came here, paid lots of money to be able to this and was not getting out of it what I expected and wanted. I have heard from different teachers that they are not happy with the initial test as it is, because it does not provide them with accurate information about the students and then students end up in wrong courses and they change them, which is also annoying ladies in secretariat. Therefore they requested that the test is changed and they also insist on short two minute talk with each student at the beginning of the course to be able to assess them better. Hopefully, this will improve the process and less people will be unsatisfied.
Now, as I said, I am happy with the level and everything else and I am enjoying the course. I also feel like my Italian is progressing and I am able to say much more, fingers crossed it will be only better from now on 🙂