First day(s)
I arrived to Perugia a day before I was supposed to go to the university for testing. When we were landing at the airport I could see a big lake Trasimeno (I believe the fourth biggest lake in Italy) and lovely houses with beautiful green surroundings. Suddenly I felt peace even though I knew next couple of days will be filled with stress of new and unknown. I don't know why, but probably the love I feel towards this country kicked in and it made me feel very comfortable.
I got through the passport control, collected my luggage (which was bigger than I expected it to be a night before) and grabbed a taxi. The airport is about 18 km from the centre of Perugia and taxi was quite expensive, I paid €50. But to be honest when you are in the new place, with hands completely full with your luggage you do not want to worry about the directions and buses. So I sacrificed the money and enjoyed the ride through Umbria verde (green Umbria as locals call this region of Italy).

I used Air B&B for the first two nights till my new home  was ready for me. From what I gather many locals use the rental potential of their properties for foreign or Italian students as it is a good income of money for them. Corso Garibaldi where I live, is full of foreigners but locals as well. It is about 5-10 minute walk from the main building of the Universita per stranieri (Palazzo Gallenga) for me and offers services such as laundry room, gym, local shop, restaurants, take always, bars.
The testing is a mandatory first step that everyone must take no matter what their level of Italian language is. The university is well organised, they speak both, Italian and English, as they know that some of their students do not have any knowledge of Italian or they prefer to speak in English at the beginning. We were welcomed and started our entrance test which took about 45 minutes. The first exercises were on elementary level and as I progressed further they were getting more and more difficult. We got our results about half and hour after we finished the test. I got enough points to make it to B1 group which made me happy (at least I did not embarrass myself J ). Then all of us were sent to the enrollment department where very polite ladies did all the paperwork and explained to us where and how we will take lessons. I also got my student card.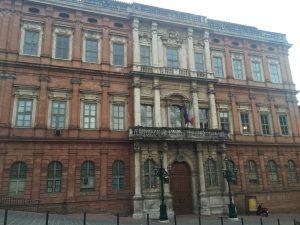 The university has a main building and then they have another set of buildings about 10 minutes walk from the center. Both these locations are equipped with the canteen which is available to all students. I love cooking but to have an opportunity to have a proper lunch or dinner for €2-4.50 sounds too good, especially when you do not have anyone else to have dinner with. As I said, all students of Universita per stranieri are eligible to use canteens and the only thing they must do is to register themselves for it and get an identification card issued by Agenzia per il diritto allo studio universitario dell'Umbria, which is located close to the university. The university offers all its students access to a free wifi in university buildings. I have not tried it yet, so cannot say how good it is, but I am sure I will include this information in future :).
The test was on Thursday and today is Sunday. So I am spending my time by visiting the center of the town, learning new words and habits locals have.  I met a girl from Greece, Zoi, who has been accompanying me. We met at our first day at university and I must say that having her here makes it much easier for me to put myself out there and not to be scared of new things. So far we have found out that Perugia has a very full social calendar for next couple of weeks as they host a Jazz Festival here and also university organizes events for its students.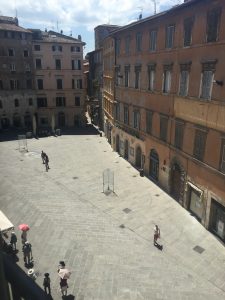 Unlike other smaller places in Italy that I have visited so far Perugia is full of young people. Foreigners come here to learn the language, also Erazmus students in September will take intensive language courses before they will move to other parts of Italy to study at universities.  Finally, there is another university (Universita degli studi) that provides whole range of faculties and therefore Perugia never sleeps (well, at least till midnight 🙂 ).