Spoleto- hidden gem of Umbria
Two weeks ago me and my friend Juliana, or travel buddy as I could call her as we have done many trips together, decided to finally visit Spoleto. Lots of people told us to visit before we leave and our friend Immy had done so couple of weeks ago. Spoleto is very charming town about one hour away from Perugia by train. You can find direct connection or you may need to do one change in Foligno. Only one thing I would definitely mention about travelling by a train is that though you buy a ticket (in the machine or directly from the person at the ticket office, but non Italian speakers may prefer the machine as it "speaks" also English and other languages) you need to validate your ticket before you get on the train otherwise it will not be valid. You buy a ticket for a day and you can use it anytime during the day. Therefore you need to validate to make sure that if there is an inspector on a train you are able to show him or her your valid ticket. This does not apply to IC (Inter City) trains which have automatically assigned seat.
We arrived to Spoleto in afternoon and first thing that took our attention was a market that was taking place on the main road from the station to the city center. You could find anything there, clothes, food, cleaning products, handmade products, but also pets (I particularly enjoyed the puppies 🙂 ).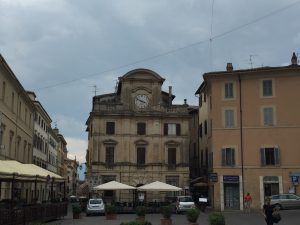 The town has quite good structure, it is not full of tourists, but they are definitely prepared for them. You can easily find the historic centre of the town. Narrow streets that will charm you straight away are not the only thing to admire in Spoleto. You must be aware of the fact that small towns like Spoleto "sleep" in the afternoon which means that you will be able to find open restaurants (but not many after 15.00) and many shops will be closed and will reopen around 18.00.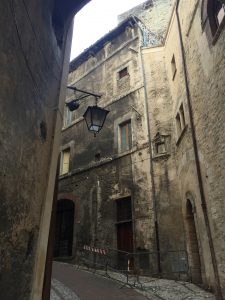 Our first stop was a restaurant that Immy recommended to us- Taverna La Lanterna. The restaurant is hidden in Via della Trattoria, but once you know which way to go the smell of good food will help you to find it. Interior is quite simple, as it is in most of good Italian restaurants, but you will enjoy proper homemade meal like you were in someone' s house and their mamma made you her specialty. The secret to this is the fact that in the kitchen you can really find couple of mammas like that. Old ladies with cooking skills that impresses not only locals but tourists as well.
Spoleto offers lots to history lovers. The town is one of the oldest places in Umbria. Romans left their trails there and thanks to them you can enjoy quiet atmosphere of Roman Teatro (Theater) and sit at the same place where Romans sat 2000 years ago. Part of Roman Teatro is also museum with objects that confirm roman existence in the town. The entry to the Roman Teatro is €4, but you can buy a card in a sum of €9.50 which will give you access to all of the museums in Spoleto for 7 days.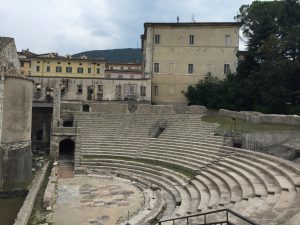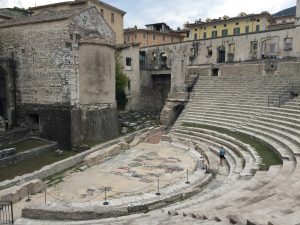 You can walk through the town, admire Arch, churches and more and more narrow streets that will make you feel like you are living a dream. Every restaurant and every shop that I have seen was original, offering local products and what is more important for me you could not see any trace of touristy hot spot. All places in Italy have their charm, but I have learned that once you visit a touristy attraction it loses its atmosphere and you hear more English than Italian. This will not happen to you in Spoleto.
Everything good is worth the effort, they say, and so it is like with Roca Albornoziana. The old castle that overlooks the town offers wonderful views. If you don't feel like walking up the hill there is a lift and set of escalators that will help you to get to the top. The entry fee is €7.50, but with the card I mentioned earlier you can enter also this monument. Inside you can admire old paintings and architecture. From Roca Albornoziana you can see the Ponte Suicidio which is famous for being a place chosen by people who want to commit suicide. Not a nice thing, but the bridge is very interesting piece of architecture.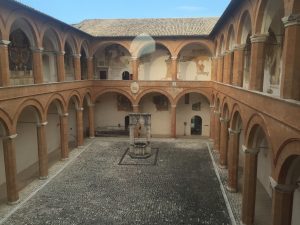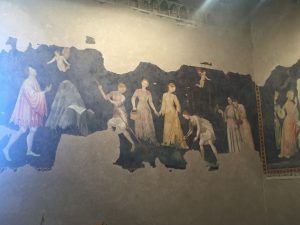 If you take the lift from Roca Albornoziana it will take you couple of floors down and then you can take escalators which will take you down the hill near Duomo. The Duomo in Spoleto is one of the most beautiful churches I have seen in Italy. Probably people who know more about art and architecture will not agree with me, but I felt particularly calm and spiritual in this place. Piazza del Duomo (square outside the Duomo) is well known from Italian TV series Don Matteo which was filmed all around Umbria, but especially in Spoleto. I am not sure if it was just the day we were visiting Spoleto or if it is like this all the time, but the piazza was almost empty. Very good for pictures 🙂
The city centre is full of narrow streets that invite you to explore them and to find out what is hidden in them. You can find many cute shops, coffee shops, restaurants.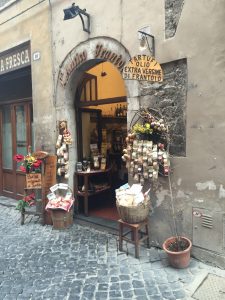 People were very nice to us, I really felt very good in Spoleto and I will recommend everyone to visit this charismatic place full of good energy. I hope one day I will be able to return to Spoleto and explore even more.